Watch
A video pulled from a fastcodesign interview with Deiter Rams, "The Greatest Designer Alive." "Here, Rams bemoans that more companies don't privilege design and he argues that for design to have a truly great impact, designers can't be insulated at a company but report to high-level management."
6 tags
I've read this five times now. I get inspired each... →
1 tag
NY Times article: The New Humanism →
I wish I could be this articulate when I talk about why human emotion is so important when it comes to designing consumer product. Key points for me are; "…the unconscious parts of the mind are most of the mind, where many of the most impressive feats of thinking take place." -and- "…emotion is not opposed to reason; our emotions assign value to things and are the...
Jason Putorti: Engineering vs. Design →
putorti: The extranormal guy talking about features still thinks that the consumer actually cares about them, and that's often the mindset of an engineer. Engineers are very interested in making the impossible, possible— and a device and feature are expressions of that possibility. Designers focus,… Well said. Companies where superb customer experience is a business advantage require an...
3 tags
The right questions + research = great start to a... →
This is a good read for those who long to make new and interesting things. For me - the article describes what is simply a great start to a solid Design (with a big "D") process. This approach offers meaningful contraints to solving problems or adding something delightful to the world. I love the path of heuristic discovery that leads you to uncover an interesting fact no one person...
4 tags
Designing an Organization That Designs Better... →
Rebekah Cox, employee number one at Quora, writes about what it means to be a designer at Quora. She offers solid reasoning for why designers need to have authority and a seat at the table - that without it they're pretty ineffective. Also, commentary on design itself being about choices that get made early on is spot… well - on. Those in the Web biz looking for a designer should read...
3 tags
3 tags
Sketch, Sketch, Sketch →
This is really nice perspective on the purpose of UI sketching. Sketches aren't a qualification for artistry but a tool to explore a lot of ideas quickly - allowing the continuum of the design process to move forward. I would note - save all sketches. Review them and make your own notes about what you think works, doesn't and what could use some discussion. Preserve your ideas so that...
4 tags
The Seven Deadly Sins That Choke Out Innovation →
Great effing list! This is the second article by Helen Walters on FastCoDesign that I think is right on the money. Read her other article "The Seven Biggest Challenges in Merging Design & Business". Apparently she like the number "7".
2 tags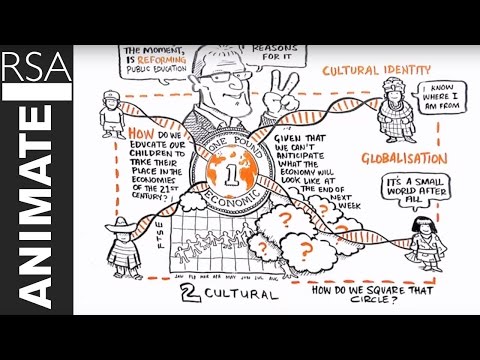 4 tags
Example: Vision As the Driving Force
I recently came across Bank Simple (banksimple.com). Their site, besides beautifully designed, does a fantastic job at selling the vision of their new-age banking company so well that I gave them my contact info within 5 minutes of being there. Not only that - it left an extremely positive impression on me. I'm sincerely excited to receive the invite once their product & service...
The Organic Drivetrain →
No, "Organic Drivetrain" is not a set-up to a "that's what she said" joke. It's Marty Neumeiers formula for companies that must balance long-term goals and short term demands (most do). I couldn't agree more with him on this one too! Because of my experience in being a strong advocate for internal brand development I'm going to guess that some...
2 tags
12 of the Year's Best Ideas in Interface Design →
Boy - I would love to get my hands on that multi-touch DJ light-table! Also, I dig FLUD - it's very slick - but i don't find the interface that mind-blowingly new or fresh. There, I said it.
2 tags
The Future Of Media Design →
A very interesting collection of thoughts from a handful of insightful and intelligent folks. Long article but each perspective from an individual is shared through video. Definitely take a look.
4 tags
2 tags
David vs Goliath: Why Small Businesses Exceed... →
A very objective article on the pros & cons concerning small biz vs. large biz. It gives those giants insight into what they need to be aware of / what they're in jeopardy of losing when they get "Goliath-ized".
5 tags
Knowing - *MAKING* - Doing →
Why do so many product companies, especially web/tech, skip the "making" process? I think it's because they see it as expensive. "Doing" before exploring and realizing what could be is far more expensive than delivering uninspired, dull solutions that don't solve problems to their fullest potential and detract from any brand equity you've built. Think...
2 tags
"Play is the answer to how anything new comes about."
– Jean Piaget Laura Seargeant of Frog Design, Austin adds… "A playful mind thrives on ambiguity, complexity, and improvisation—the very things needed to innovate and come up with creative solutions…" Pulled from designmind.frogdesign.com
4 tags
The 7 Biggest Challenges In Merging Design and... →
I really enjoyed this piece on the current state of design in business, the "golden age" of design and designers, the democratization of design tools and responsibility and the continued lack of understanding of the discipline by so many people who do their best at practicing it. I can confirm much of this - having come from working environments where so much of this is true. This was...
"via Jason Putorti"
My blog is quickly becoming a Jason Putorti mirror site :/  What can I say - the guy is insightful, finds and posts amazing things and, in my IMHO, is always pretty damn spot on! If you like what you see here then definitely check out jasonputorti.com. BTW, Jason was kind enough to offer a meet-up when he was in Boston a few months back. I spoke with him quite a bit about challenges I was facing...
Watch
putorti: 10 Things VCs Need to Know About Design by JESS3 I'm currently reading "REWORK" by the 37Signals founders. What a juxtaposition between this presentation and that book! I'm thankful for the clarity it brings.
"Everyone on the campaign loved the videos. All the videos ended up doing worse..."
– How Obama Raised $60 Million by Running a Simple Experiment (via putorti) A nice case of A/B testing connected to the outcome of using real data to make powerful UX choices.
"Holding onto a customer has never been harder — or more important. Proprietary..."
– The Constant Customer (via putorti) I recently had a conversation with an engineer I work with about this very thing. It's extremely hard to communicate this idea to "left-brainers". It's an extremely important point in product design, particularly in B2C. Give it a read.
52 Weeks of UX: Simplicity isn't that simple →
"Simplicity is the ultimate sophistication." —Leonardo Da Vinci Simplicity, by definition, is freedom from complexity; the absence of luxury or pretentiousness. Sophistication, on the other hand, often implies a sense of style, cultivated beauty and refinement. So is Da Vinci…
"A skilled visual designer will certainly add aesthetics to the solution. But, if..."
– Interview with Jared Spool (via putorti) I couldn't agree more. The judge of design can not be aesthetics alone.
"…all great achievements are the result of tireless execution. Inspiration should..."
– How to Overcome Idea-to-idea Syndrome (via putorti) I love this quote. This also includes the desire to constantly "innovate". You've got to make good on your current innovation(s) before you move on to the next. Yes, I've read "Innovator's Dilema".
Stranger Than Fiction
Maggie Gyllenhaal asside (not a fan), I loved Stranger than Fiction. I think the opening sequence may have had a lot to do with it :) The use of information to express how some of us manage our lives is so well done here. The idea is a perfect fit when it comes to supporting the story and the execution is flawless. Take a look…
The Unfinished Swan
Wow! I don't want to start the "are games art?" discussion but this thing is beautiful! Wonderful union of a creative idea met with perfect artistic choices. I think the games approach will survive (and flourish) on its simplicity in both its idea and creative execution. Can't wait to play! The Unfinished Swan - Tech Demo 9/2008 from Ian Dallas on Vimeo.
Objectivity with Regard to Emotion
I always try to remain as objective as I can be whatever the situation. It's a general approach I constantly remind myself of. Questioning what the other side of the coin looks likes and trying to take different perspectives on issues helps me make choices that are clear and honest. The emotion of a situation is what makes this approach so difficult - it's the caveate when addressing...